Payment Options
---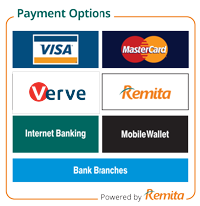 Make Payment with multiple options
You can make payment for iTranscript using any VERVE, VISA or MASTERCARD debit cards.
Notice:
All transactions can be concluded on this portal using your ATM cards.You can also make bank branch payments using RRR code generated from this portal.
Transactions processed on the Unified Payments platform are authenticated using either MasterCard SecureCode or Verified by Visa as against the OTP option in use on Webpay. As such, ensure that your debit cards have been enrolled for these authentication options in order to process MasterCard or Visa Card transactions successfully.
Registration for the SecureCode service can be done online by simply visiting your banks' website. Some banks also provide the Activate During Shopping (ADS) service that allows registration for SecureCode during the payment process.